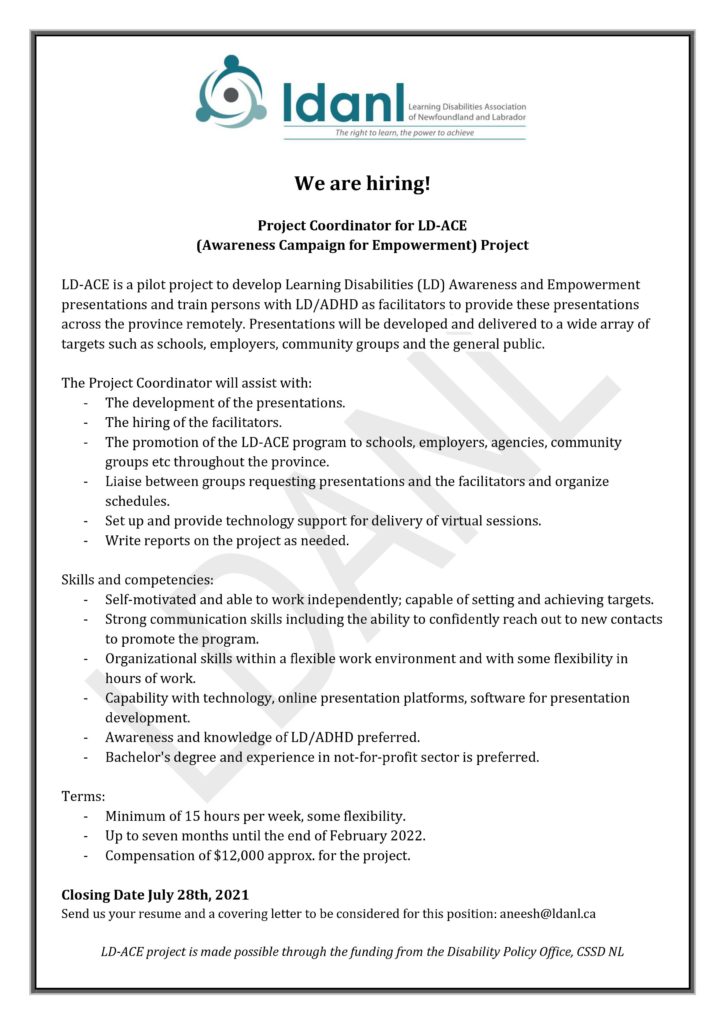 We've Moved!
---
We have said goodbye to our office on Kenmount Road and have moved into our new location on LeMarchant Road. We are now located at 120 LeMarchant Road (the old Harrington School building). We are currently closed to the public due to Covid restrictions but continue to serve you through email, zoom and phone calls. Our tutoring services are fully online at this time and can be accessed from any location in the province or beyond.
Contact Karen info@ldanl.ca for tutoring registration or general inquiries. When it is safe to do so, we will welcome the public to our new bright and cheerful space!
---
LD Screening and Assessment
Here you can access a recent study done by Dr. David Philpott for LDANL
---
Student Aid
---
It's that time of year when our Grade 12 students are making plans for Post-Secondary studies. Did you know that students with a Learning Disability qualify for grants under federal and provincial programs? Check out this information here:
---
---
The sky's the limit…
Michael Neary started his exciting journey with us in Grade 2. He worked hard to overcome the challenges his Learning Disabilities presented and learned to use his accommodations to successfully graduate Grade 12 in 2019. Michael found his passion on the tracks as an award-winning race car driver. He conquered school, the race tracks, and now even the sky! Michael is now a pilot-in-training at flight school in Gander, NL.
Michael has been a speaker and role model for LDANL and his inspiring story was captured by CBC in the video below. Michael didn't let his Learning Disabilities define or confine him, and neither should you!
View Michael's success story here
Contact us to share your own success story: edie@ldanl.ca